Conservolea Variety
The Conservolea, also known as Amfisis, Volou or Agriniou, olive variety accounts for around 25% of annual Greek table olive production (about 40,000 tons). It is cultivated in central and western Greece, specifically around the areas of Magnesia, Phthiotis, Fokida, Arta, Aetolia-Acarnania and Larissa, though also in several other parts in smaller quantities.
In previous times, from the 1950s to 1970s, the Conservolea variety was the leading Greek table olive variety. Depending on the maturity of the fruit at the time of harvesting, this variety can be found in green, blond or black. According to the desired colour of the olive (maturity stage), producers handpick the olives from September to December.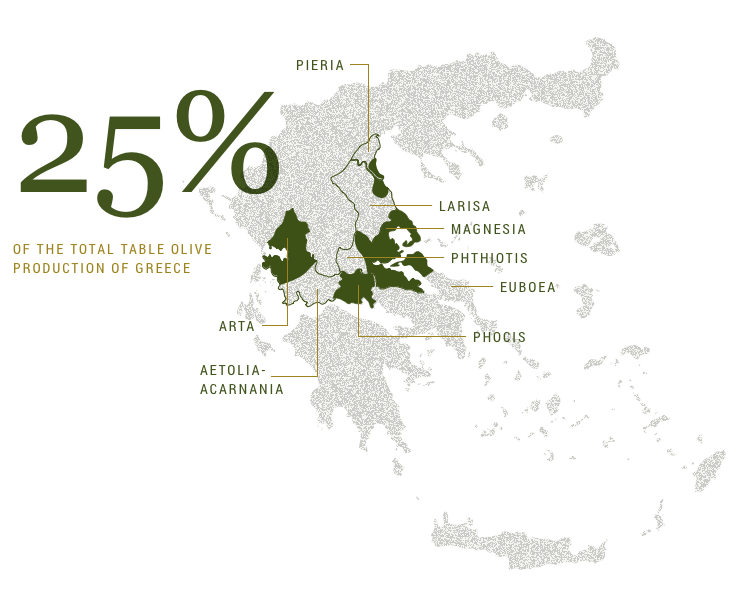 After processing, these olives take on a rich green, natural gold/brown or natural black color, or can be presented dried.
| Processing | Whole | Pitted | SLICED |
| --- | --- | --- | --- |
| Traditional (Green colour) | Yes | Yes | Yes |
| Natural (Black or Blond colour) | Yes | Yes | Yes |
| Alkaline Oxidation (Black colour) | Yes | Yes | Yes |
| Dried (Black colour) | Yes | No | No |
This variety can be found at retail as green, green cracked, black or dried.
NAME OF SIZE & PIECES PER KILO
These olives have an oval shape with a fine supple skin. Their weight ranges from 3 to 11 grams.
91/100
101/110
111/120
121/140
141/160
161/180
181/200
201/230
231/260
261/290
291/320
321/350